Your eyes are like little moons… well, sort of.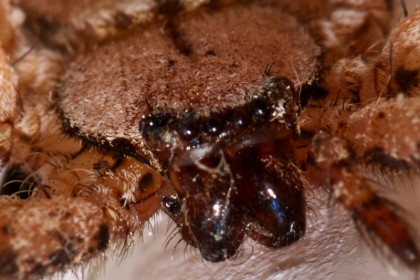 I've written about Selenops spiders before
, but thought I'd give it another go, now that there's such a cooperative one living in a crack on the landing:
spider eye arrangements, visit this page at bugguide.net
.) Here's a typical jumping-spider eye:
median
eyes) are quite a bit larger than the next pair outboard, and there's another pair that stare straight sideways mounted a bit higher up on the head. This arrangement enables the jumping spider (typified here by
the pantropical Menemerus bivittatus, or Gray Wall Jumper
) to execute their unparalleled feats of precise acrobatic locomotion. The web-builders, on the other hand, generally have small, equal-sized eyes, like this friendly
Eriophora ravilla I photographed last January
:
chelicerae
by araneologists) and you have a beast that, while probably quite beneficial to the average homeowner, is usually considered to be less than endearing.