The most exciting thing about Sunday's trip to Gumbo Limbo Nature Center (other than giving Eric his first excursion in his new backpack) was the tree snail in the parking spot next to ours: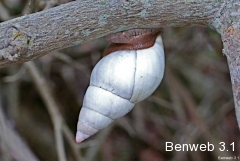 Florida Tree Snails are a very endangered species; the March 1965 issue of National Geographic did a long piece ("Tree Snails, Gems of the Everglades") on these little beauties and the dangers facing them: bulldozer and builder. Not much has changed in the last 45 years…
According to the article, the name of the genus (Liguus) "comes from a word meaning 'banded'–and what lovely bands! They range from solid hues to variegations that span the spectrum. I was not surprised that collectors have paid $50 or more for rare shells" (376).
A more recent review of the Liguus species of south Florida (Henry T. Close, The Liguus Tree Snails of South Florida, 2000, UP of Florida) has an entire chapter on how the banded designs on these snails influenced Seminole clothing design.
Our trip to Gumbo Limbo was brief: we didn't have a whole lot of time since we left the house at 2:45, and the place closes at 4. We were in too much of a hurry to walk around the boardwalk through the restored native tropical hammock. But we did manage to have a little bit of fun with the native plants, and even more with the herps in the live displays (gopher tortoises and sea turtles). See the gallery below.
Here are a few shots of other Florida Tree Snails we've seen through the years:
References
Close, Henry T. 2000. The Liguus Tree Snails of South Florida. Gainesville: University Press of Florida.
Davidson, Treat. 1965. "Tree Snails, Gems of the Everglades" National Geographic 127:3 (March 1965), 372-387.
Related Images: