This spring, I started an occasional series of posts on the palms of Palm Beach County. Probably the most complete post was the one about our state "tree," the
Sabal Palmetto
(Cabbage Palm). But, as any writer knows, the more you strive for comprehensiveness, the more you realize you are doomed to failure. Case in point: the palms are blooming right now, and I didn't include any pictures at all of the blooms in that post! Here are a couple that I took today, while on my lunch break (I'm working from a home office again, so I'm able to get out a little bit more into the "wild" of the urban back yard):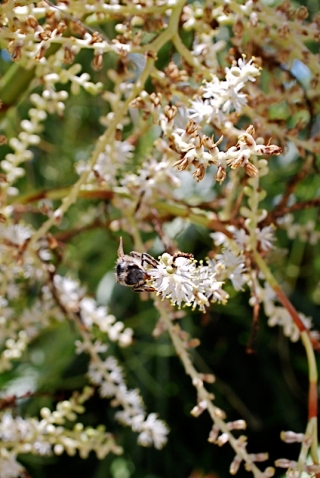 Each individual flower may be unimpressive—according to Tobe et al., "bisexual, small, white, clustered on lateral branches of the large (typically longer than leaves) inflorescence stalk—but when taken in their entirety, that is, on their large stalk, they are quite worthy of a bee's business. In this shot, you can get a better idea of just how large the inflorescence stalk is. The tree is about 20 feet tall, and those stalks overpower the telephone pole and wires that appear in the background: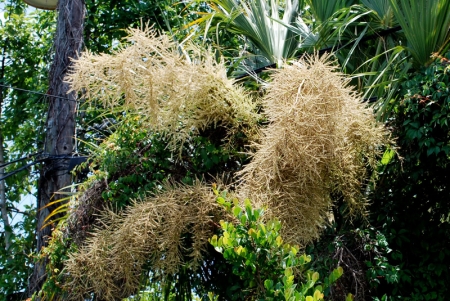 Not exactly something to sneeze at. Unless, of course, you're allergic to the pollen, in which case,
Gesundheit!
References
Tobe, J.D. et al. (1998).
Florida Wetland Plants: An Identification Manual
. Tallahassee: Florida Department of Environmental Protection.