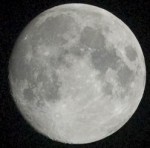 Isn't that a whole lot easier to say than "Supermoon"? But seriously, if you want to know what's happening with this Sunday morning's full moon, the best article I've seen in a while is over at Sky and Telescope's website.
The moon will appear about 7% larger than the average full moon, because it's going to be—get this—7% closer to us. 357 061 km, instead of the "average" 384 402 km.
It will appear more than 7% brighter, though, because brightness varies with the square of the distance. So, (384,4022 − 357,0612) / 384,4022 × 100 = 13% brighter.
If […]