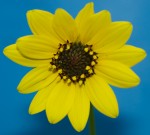 Dune sunflower, Helianthus debilis, is a commonly recommended plant for Florida native gardeners. It's in the daisy family (Asteraceae), and it's very pretty:
Yellow rays, purple disc flowers, loads of pollen—very attractive to bees and butterflies.
It self-sows and reseeds annually, so once you've got it established, you don't have to do much except remove it from places you don't want it! It grows best in "dune" environments: sandy areas in full sun, hence the common name.
[...]