Across the street from the historic
Mission San Miguel Arcangel
, est. 1797, lies the slightly younger (est. 1835), and much less conspicuous, historic
Rios-Caledonia Adobe
. The what? What the heck is an "adobe"? Some sort of computer software company? No; you're thinking of quite recent history. An adobe, according to my
American Heritage Dictionary
(rapidly becoming my favorite unabridged, perhaps simply because I don't have MW3 in a conveniently accessible format, perhaps because it's so much prettier than MW3), is
1a. a sun-dried, unburned brick of clay and straw. b. The clay or soil from which this brick is made. 2. A structure built with this type of brick. [Spanish, from Arabic at-tuba, the brick: al-, the + tuba, a brick, singulative of tub, bricks (from Coptic tobe, toobe, from Egyptian dbt, brick)] (apologies for the lack of diacritics; WordPress doesn't come "off the shelf" with a large selection, and I never thought I'd need them in this blog)
Naturally, we're concerned here with definition 2, a building made from these unfired bricks. I didn't go across the street after our tour of the Mission with the whole crew in tow just to look at bricks--no matter how tempting it might be to see that proverbial ton of bricks from time to time...
Adobe
is very common throughout the American southwest. It's perhaps most famous in places like
Taos
, but there are
numerous
adobes
in California as well. Here, then, is the Rios-Caledonia Adobe: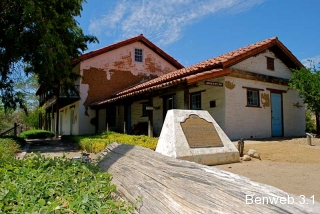 Pretty little place, isn't it? It has a museum inside, with rooms furnished in period style. If I had a head for this kind of detail, I could describe the quilts hanging on the walls (various members of our party commented on them, but I'm so out of touch with this part of human existence that I didn't even take a picture of them), or the various instruments of daily life displayed in the glass cases (soap boxes, typewriters, razors, and various other realia from times gone by). Apparently the building served as stagecoach stop, hotel, and tavern (1868-86); schoolhouse (1887); mattress factory and tailor shop (1889-95); and private residence. The various rooms upstairs and down have been restored and refurnished to illustrate this history. I took very few pictures of these types of things; I'm much more interested in the exteriors of things, as you can see from the gallery below. The one displayed object I did take a picture of was this cool mammoth tusk that was apparently discovered near the site of the building (assuming the Smith Ranch in San Miguel is or was somewhere near the adobe):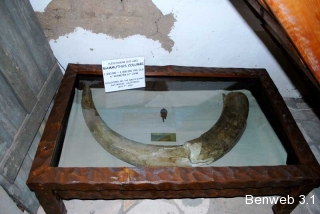 One of the cool things about the place that I didn't realize until I reread the brochure was that it's built between two 
Highway 101
's:
The original dirt stage coach road (El Camino Real? The brochure doesn't say, but I'd be hard pressed to believe otherwise) lies to the east of the property. It was paved in 1915 and designated as Highway 101 until 1931;
The current concrete highway to the west; the Highway 101 we all know and love.
The grounds have a a lovely botanic garden featuring California native plants, for the most part (the self-guide brochure calls this part of the grounds the rose garden; apparently it's a memorial to a former resident of the town of San Miguel). The garden even has a key map that identifies the plants along the path as you walk from the parking lot to the buildings themselves. Unfortunately, I wasn't able to spend as much time as I would have liked botanizing, given the ages of the company we were with. But there's always another trip... Both the mission and the adobe merit a return visit, if you're interested in California history.