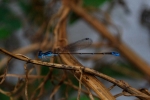 Last week I noticed a couple more damselflies; these guys were in the front yard instead of the back yard.
The first two pictures are from Saturday August 20th:
This next shot is from Monday the 22nd. I'm not sure, but I think this might be the same individual, just a bit older and a lot bluer (you can really see the difference in the thorax (the chest section). I really have no idea who these guys were, and I haven't gotten any IDs on this guy/these guys from my normally reliable bugguide.net.
But […]