You know it's spring in south Florida when your Gumbo Limbo sticks—er, trees—start to flower:
You see, Gumbo Limbos are briefly deciduous—at the end of the cool part of the dry season, they drop their leaves, and for a brief while their branches are bare:
Nursery people call this "leaf exchange," and some trees do it very quickly (my neighbor's huge Pongam tree dropped two tons of leaves on my lawn in the space of three days, and three days later it had already leafed out again), while others do it more slowly.
My Gumbo Limbo does it fairly slowly, all the more so since the scale insects seem to adore it so. If you click on the photo of the flower above to look at the larger version, you can see there are some tiny little scaly jerks sucking the life out of this tender new growth. I've removed as many as I can with my big clumsy fingers, but getting them all is beyond my abilities. I'm just hoping to reduce the population enough that the tree's new growth can establish itself quickly enough to be able to withstand the onslaught until the various scale predators can help me out.
I've already seen several lacewing eggs on the tree, strategically located close to the emerging new growth; with luck these voracious larvae, which feed on scale, will help me stem the tide:
Green lacewings are interesting little beasts. As their name implies, they are delicate, lacelike creatures that do nothing but good in the garden: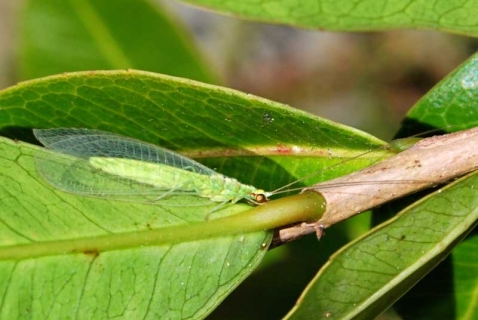 The adults are usually predators of other insects, but a few species feed only on pollen. The larvae, on the other hand, are excellent predators on all kinds of small soft-bodied garden pests (aphids, scale, and the like), which is why lacewings are one of the more frequently used biological pest control species. Here's a picture of the "trashbug" from a few years ago: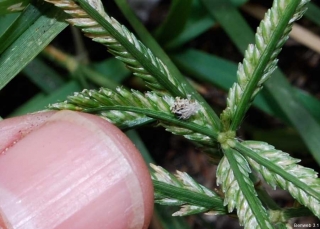 If you're interested in reading more about green lacewings, here is an excellent blog post by Carol Leffler over in Polk County, writing for the Florida-Friendly Landscaping program. Some highlights:
Newly emerged lacewing adults undertake miles-long nighttime dispersal flights even when there's suitable habitat where they were born. (Adaptation for species/habitat diversity)
A single lacewing larva can consume up to 200 aphids or eggs per week. (No wonder these insects are sold as pest control despite their habit of dispersal upon reaching adulthood)
Lacewings are relatively long-lived insects (they can live for several months, rather than the weeks or days of butterflies, flies, and other flying insects).
You go, little guys!