A romp in the grass with some fine damsels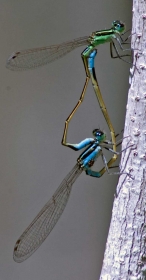 The last few days have seen the finest weather I can recall since moving to Florida. Daytime highs in the low- to mid-70s, overnight lows in the 50s and 60s, a light breeze making sure that even when you're out in the sun you feel cool and refreshed. This is what living in south Florida is supposed to be like! When the weather's this nice, one of my favorite things to do during my lunch break is go out and get dirty. And every now and then, getting dirty involves rolling around in the grass chasing after lovely little damsels. And every now and then, when you chase lovely little damsels you catch them. Here are some pictures of the lovely little damsels I caught during my lunch break one day this week. A beautiful, if somewhat immature, female Citrine Forktail (
Ischnura hastata
):
Some insects feed on rosebuds, And others feed on carrion. Between them they devour the earth. Bugs are totalitarian.
—Ogden Nash
my yard has been veritably plagued by them
for weeks now (if you can call the presence of beautiful little insectivorous fliers a plague). Just to show how many there were, here are a male and immature female jockeying for space on the same wildflower/weed in my front yard:
I. ramburii
) are showing up as well:
One study of just one type of parasite (gregarines, one-celled protozoans)
demonstrated that these organisms tend to be host-specific as well, so when you add up the number of kinds of parasites, then multiply by the number of known species of hosts, you're dealing with astronomical quantities.) The female of Rambur's Forktail is polymorphic, which means that she comes in more than one color form (but only one per customer, please). The individual pictured has what is known as 
andromorph
 coloration (from Greek 
andro-
, "male"); that is, her color is almost exactly like that of the male. Her thorax, though, unlike the green thorax of the male, is blue. This color difference means that she is technically immature; if she were older, it would be green just like the male's. How can I prove that she's female? Well, today it was pretty easy: she's the one on the bottom in the wheel, or heart, position:
Male Odonata are unique among exopterygote insects [ie, those that undergo incomplete metamorphosis, with only egg-larva-adult stages of life, rather than complete metamorphosis, egg-larva-pupa-adult] in having the primary genital orifice and the intromittent organ located at opposite ends of the abdomen. (Corbet 1999)
During copulation, the female's tail tip is pressed up against a secondary genital structure located between the male's second and third abdominal segments. That structure, called the
seminal vesicle
, has been packed  with sperm from abdominal segment 9, right near his own tail tip—how he manages to
first
 clasp the female and
then
transfer the sperm would be a complete mystery to me were it not for the helpful illustration from Corbet that I reproduce below—and is being pressed up against the female's tail tip so the sperm can be transferred from said vesicle to her spermatheca; any eggs that pass through that spermatheca then become fertilized. Here is a graphic representation of the process from the dean of odonate studies, Philip Corbet (you have to click the image to see all 8 stages; the thumbnail cuts the picture off mercilessly):
References
Corbet, P.S. (1999). Dragonflies: Behavior and Ecology of Odonata. Ithaca and NY: Comstock. Paulson, D. (2011). Dragonflies and Damselflies of the East. Princeton, NJ: Princeton UP.