New backyard planting: Cordia globosa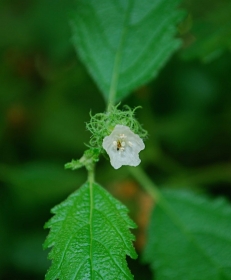 I've mentioned this plant a few times, but I don't think I've ever really written up this interesting little shrub,
Cordia globosa
; the common name is bloodberry. It has many virtues to recommend it: it's easy to grow, easy to maintain, and attractive to a wide variety of  nectaring insects and berry-hungry birds. The flowers aren't particularly showy, but they are abundant, and when the plant fruits, the little red berries make a nice display. I have one growing in my front "courtyard"; here's a picture of the tiny little flower:
peduncle
, when it supports an inflorescence, as these do) looks like normally, with a few new white flowers and a few old brown ones. I also like the intricate pattern of "dots" (
papillae
; when hairy, "papillose-hispid") on the coarsely serrate leaves:
Cassius Blue
or the
Mallow Scrub-Hairstreak
, which are tiny little guys that can't extend their proboscis into the deeper flowers. And the berries are so abundant that the giant plant at my old house provoked several families of mockingbirds into weeks'-long squabbles over possession of it. Here's a little shot of that large old plant (and less than a year in the ground at that; it eventually grew to about twice this size):
IRCS website
notes that it is listed as endangered by the state of Florida, and imperiled in the Florida Keys. It's readily available in the native plant trade, though. I'm hoping to get numerous seedling of this baby and plant them as a hedge in the front yard. I've got several firebushes and cocoplums in the propagation station, but nothing looks super vigorous, and I know firsthand how fast this bloodberry plant can grow. The name is a bit of a puzzler: 
cordialis
in Latin is hearty, cordial, but that doesn't help us at all. In fact,
cordia
is actually an eponym. The genus was named after the 16th-century German botanist
Valerius Cordus
. 
Globosa
is, well, globular (spherical, really), as in
globular cluster
. The plant is usually written up as
Cordia globosa
(Jacq.) Kunth HBK., which might lead one to believe that this is  another of the plants described by the short-lived French botanist, Victor Jacquemont. Another one is the vine in my back yard,
Jacquemontia pentanthos
. However, this is not the case, because Victor Jacquemont was born in 1801, and no matter how precocious he was, I don't think he was getting published before birth. No, this plant was described in 1760 as
Varronia globosa
by Nicolas Josef Freiherr von Jacquin in his ponderously titled, pre-Linnaean botanical prodromus, 
Enumeratio Systematica Plantarum, quas In Insules Caraibes vicinaque Americes continente detexit novas, aut jam cognitas emendavit
). Here are the two pages where it is mentioned by Jacquin; first the "genus" page:
Cordia globosa:
Salvia
in front of it:
Heliotropium polyphyllum
, which is a fine flower in its own right, but will not grow about 12 inches high at best. That's a mistake I'll not repeat. I'm waiting rather impatiently for this plant to fruit, so I can collect the babies and put them out front as a border hedge along the front sidewalk. (My neighbors are probably waiting slightly less patiently, as the bare patch in the front yard is rather unsightly at the moment!)