There's a tiny little street in Paris, in the 17th arrondissement, not too far from the Parc Monceau, called Rue Jacquemont. It's named after the French botanical explorer Victor Jacquemont, who traveled briefly to the United States before moving on to India for the remainder of his too-short life (b. 1801, d. 1832). But he is immortalized in the taxonomic name of several lovely New World vines, two of which I know from Florida: Jacquemontia reclinata (Beach Jacquemontia) and J. pentanthos, Skyblue clustervine. The latter vine is one that I obtained at the recent auction benefitting the Palm Beach County chapter of the Florida Native Plant Society; I've planted it along the back fence near another lovely vine that I wrote about last week, Passiflora suberosa.
According to one online guide for South Florida gardeners, J. pentanthos is "infrequently cultivated and unsightly when out of flower," but it does go on to mention that "the compelling blue flowers make this species splendid when it is in flower." For a more thorough review of the species, this article from the Naples News cites Rufino Osorio and Roger Hammer, with plenty of photos.
The vine doesn't look like much right now: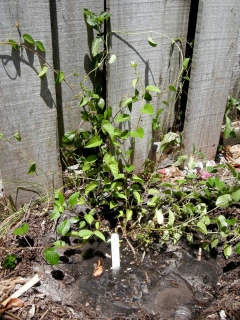 But when it gets going, it will have dozens of small blue flowers, like this:
Various authorities disagree on the grammatical gender of Jacquemontia; Gil Nelson, in The Shrubs and Woody Vines of Florida, calls it J. pentantha, and Roger Hammer, in Everglades Wildflowers, agrees; Osorio calls it J. pentanthos in my native plant bible, A Gardener's Guide to Florida's Native Plants, and since the USDA's species account agrees with Osorio, that's the spelling I've followed as well.
It's been a few days since I planted this vine, and it seems to be doing really well, sending out runners and tendrils groping for the fence and the surrounding area; I suspect it will be a rather vigorous grower. I can only hope that its neighboring passionvine will turn on the growth as well…